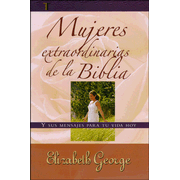 Mujeres Extraordinarias de la Biblia (The Remarkable Women of the Bible)
Author: Elizabeth George
Retail Price: $10.95
Our Price: $8.99
Save: 1.96 (17.90%)

¿Qué pueden aprender las mujeres cristianas de hoy de sus hermanas bíblicas? George dice: '¡Un montón!' Pase tiempo con estas modelos antiguas de la fe y pronto estará esforzándose hacia la sabiduría de Deborah, la maternidad desinteresada de Jocabed, la devoción de Ruth y Naomi, el sacrificio de Ana, el valor de Esther --- ¡y la lista continúa! Adaptado del libro Women Who Loved God (Mujeres que Amaron a Dios).
What can today's Christian women learn from their biblical sisters? George says, 'Plenty!' Spend time with these ancient models of faith and you'll soon be striving after Deborah's wisdom; Jocebed's selfless motherhood; Ruth and Naomi's devotion; Hannah's sacrifice; Esther's courage---and the list goes on! Adapted from Women Who Loved God.
---
Similar Items you may enjoy!