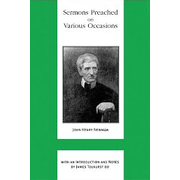 Sermons Preached on Various Occasions

Author: John Henry Cardinal Newman
Retail Price: $56.25
Our Price: $56.25
Save: 0.00 (0.00%)

Availability: In Stock



In November 1851, John Henry Newman was appointed President of the new Catholic University of Ireland, with a vague brief as to structure and personnel. He commented, 'I mean to be Chancellor, Rector, Provost, Professor, Tutor all at once, and no one else anything.' He had to wait until June 1854 for the bishops to approve the university's statutes before he was installed as Rector. The first eight sermons collected in this volume were preached during Mass in the University Church on St Stephen's Green between May 4, 1856, and February 22, 1857.

By the time the first edition of Sermons Preached on Various Occasions was published, Newman had already written to the Irish bishops that he intended to resign in November 1857--he was finally convinced that his seven-year commitment to Ireland was sufficient. He was to leave behind not only the nascent new Catholic University, but also the University Church, designed by his friend John Hungerford Pollen, and which he had paid for himself.

The remaining sermons were written for the restoration of the Catholic hierarchy in England and Wales, the Risorgimento in Italy and its repercussions on the papacy, and the death of two friends, Dr. Weedall and James Hope Scott. The sermons on the situation of the church in England and Wales, and then of the papacy itself in Italy, reflect a redefinition of the role of Catholicism in the development of the modern world.
---
Similar Items you may enjoy!