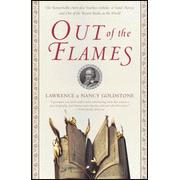 Michael Servetus is one of those hidden figureheads of history who is remembered not for his name, but for the revolutionary deeds that stand in his place. Both a scientist and a freethinking theologian, Servetus is credited with the discovery of pulmonary circulation in the human body as well as the authorship of a polemical masterpiece that cost him his life. The Christianismi Restitutio, a heretical work of biblical scholarship, written in 1553, aimed to refute the orthodox Christianity that Servetus's old colleague, John Calvin, supported. After the book spread throught the ranks of the Protestant hierarchy, Servetus was tried and agonizingly burned at the stake, the last known copy of the Restitutio chained to his leg.

Three copies of the Restitutio managed to survive, despite every effort on the part of his enemies to destroy them. Out of the Flames tracks the history of this special work, examining Servetus's life and times and the politics of the first information revolution during the sixteenth century. Lawrence and Nancy Goldstone follow the clandestine journey of the three copies through the subsequent centuries and explore its author's legacy and influence over the thinkers that shared his spirit and genius. Out of the Flames is an extraordinary story providing testament to the power of ideas, the enduring legacy of books, and the triumph of individual courage.
---
Similar Items you may enjoy!