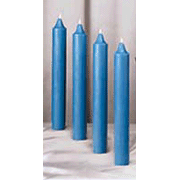 Advent Candle Set for Church, 12 x 1.5 Inches, 4 Blue, Long Burning
Retail Price: $29.40
Our Price: $24.99
Save: 4.41 (15.00%)

Availability: In Stock

Long burning blue stearic Advent candles are made especially for church advent wreaths. 12' tall; 1.5' diameter.
Stearic acid, also known as stearin, is a long-chain fatty acid often used in candle-making. Its primary property is to raise the melting point of the wax mixture, making the resulting candle harder, more durable, and prolong the burn time (long burning). They also drip less than other candle wax composites.
---
Similar Items you may enjoy!

Beeswax Advent Candle Set for Church, 17 x 1.5 inches, 4 Blue, Long Burning
Our Price: $69.99


Advent Candle Set for Church, 12 x 1.5 Inches, 3 Purple, 1 Rose, Long Burning
Our Price: $29.99


Beeswax Advent Candle Set for Church, 17 x 1.5 Inches, 3 Purple, 1 Rose, Long Burning
Our Price: $69.99


Advent Candles for Church, 12 x 1.5 Inches, 3 Blue, 1 Rose, Long Burning
Our Price: $19.95