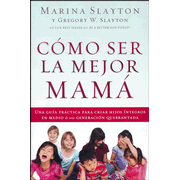 Candoacute;mo Ser la Mejor Mamandaacute; (Be the Best Mom You Can Be)
Author: Marina and Gregory W. Slayton
Retail Price: $13.99
Our Price: $7.49
Save: 6.50 (46.46%)

Availability: In Stock

Las madres devotas nunca han sido más importantes. En una época en la cual abunda el quebrantamiento y las voces culturales sóolo añaden más confusión, muchos padres --y niños-- se sienten perdidos.
¿Cómo podemos evitar los peligros de una cultura secular?
¿Cómo criar hijos sanos emocionalmente y espiritualmente?
¿Qué sucede si lo estamos haciendo mal?
Se necesita desesperadamente un sabio consejo.
Marina Slayton ha pasado los últimos treinta años caminando con Dios y criando cuatro niños. Desde California a Bermudas, de la escuela pública a la educación en casa. Slayton ha estado allí, y no tiene miedo de compartir sus errores, epifanías e ideas prácticas. Pero ella no se detiene allí. Capítulo por capítulo, Slayton, junto a su esposo Gregory, muestra cómo el poder de la Palabra de Dos y la obra del Espíritu Santo pueden dar dirección y libertad a los padres que más lo necesitan. Estas son las verdaderas clave para llegar a ser la mejor mamá que puedas ser.
Godly mothers have never been more crucial.In an age when brokenness abounds and cultural voices only add to the confusion, many parents—and children—feel lost.
How can we avoid the pitfalls of a secular culture?
How do we raise children who are healthy emotionally and spiritually?
What if we're doing it wrong?
Wise counsel from a friendly corner is desperately needed.
Marina Slayton has spent the past thirty years walking with God and raising four kids. From California to Bermuda, from public school to homeschool, Slayton has been there, and she's not afraid to share her mistakes, epiphanies, and practical ideas. But she doesn't stop there. Chapter by chapter, Slayton, together with her husband Gregory, demonstrates how the power of God's Word and the work of the Holy Spirit can give direction and freedom to parents who need it most. These are the real keys to being the best mom you can be.
---
Similar Items you may enjoy!