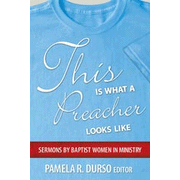 This Is What a Preacher Looks Like: Sermons by Baptist Women in Ministry
Author: Pamela R. Durso(Ed.)
Retail Price: $18.00
Our Price: $16.88
Save: 1.12 (6.22%)

Availability: In Stock

'This Is What a Preacher Looks Like was a hit catchphrase long before any idea of a book ever existed. When Baptist Women in Ministry created T-shirts to celebrate their 25th anniversary, few could have predicted how popular the bright aqua-colored shirts would become!
Yet, no one should be surprised about the giftedness of Baptist women preachers. From the first days of Baptist beginnings - as early as the 1630s - Baptist women preached throughout England. Their voices are soft and loud, prophetic and pastoral, humorous and sincere. They are African American, Asian, Latina, and Caucasian. They are sisters, wives, mothers, grandmothers, aunts, and friends.
This Is What a Preacher Looks Like: Sermons by Baptist Women is a collection of sermons by thirty-six Baptist women. Just imagine - the work of thirty-six Baptist women preachers in one volume. Yet, the truth is that this book could have contained sermons by 836 Baptist women, all preaching the word of God!
---
Similar Items you may enjoy!