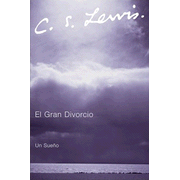 El Gran Divorcio (The Great Divorce)
Author: C.S. Lewis
Retail Price: $11.99
Our Price: $10.79
Save: 1.20 (10.01%)

Availability: In Stock

En El Gran Divorcio C.S. Lewis emplea nuevamente su formidable talento de fábula y alegoría. El escritor, en un sueño, se encuentra en un autobús que hace viajes al Infierno y el Cielo. Este es el punto de partida de una extraordinaria meditación sobre el bien y el mal que lidia con El Matrimonio del Cielo y el Infierno de William Blake. En palabras de Lewis, " Si insistimos en quedarnos con el infierno (o aún la tierra) nunca veremos el Cielo; si aceptamos el Cielo no será posible retener, siquiera el más pequeño e íntimo souvenir del Infierno."
In The Great Divorce C.S. Lewis again employs his formidable talent forfable and allegory. The writer, in a dream, finds himself in a buswhich travels between Hell and Heaven. This is the starting point foran extraordinary meditation upon good and evil which takes issue withWilliam Blake's The Marriage of Heaven and Hell. In Lewis's own words,'If we insist on keeping Hell (or even earth) we shall not see Heaven:if we accept Heaven we shall not be able to retain even the smallestand most intimate souvenirs of Hell.'
---
Similar Items you may enjoy!