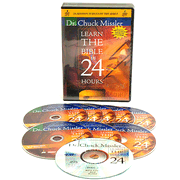 Learn the Bible in 24 Hours DVD - Slightly Imperfect
Retail Price: $89.95
Our Price: $55.49
Save: 34.46 (38.31%)

Availability: In Stock

Using sound scientific facts, historical analysis, and Biblical narrative, acclaimed teacher Dr. Chuck Missler weaves together a rich tapestry of information, providing an accurate understanding of Scripture's relation to itself, to us, and to the world at large. Learn the Bible in 24 Hours.

DVD Included:
Disc 1 - Intro and Genesis 1-11
Disc 2 - Genesis 12-50 Exodus through Ruth
Disc 3 - Samuel through Chronicles, Poetic Books, Daniel
Disc 4 - Ezra, Nehemiah, Esther, Major and Minor Prophets
Disc 5 - Messianic Thread, NT Intro, Matt through John
Disc 6 - The Passion Week, Acts, Romans
Disc 7 - Church Epistles, Hebrews, Christian Epistles, Eschatology Summary
Disc 8 - Revelation and Conclusion
---
Similar Items you may enjoy!