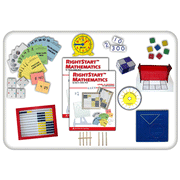 Rightstart Mathematics: Starter Kit Level A, 1st Edition
Retail Price: $163.75
Our Price: $163.75
Save: 0.00 (0.00%)

Availability: In Stock

This starter kit includes the lessons, worksheets, and 10 essential manipulatives needed for the first level of this curriculum, which is designed for 4/5-year-olds or for students who have not yet developed a reliance on counting strategies. Level A teaches place value to the hundreds, addition facts to 10, and some basic geometry. A CD with songs, an instructional DVD showing how to play 14 of the 300 games from Math Card Games book, manipulatives, and abacus will help students pick up concepts quickly.
This kit includes:
RightStartT Mathematics Level A Lessons
RightStartT Mathematics Level A Worksheets
AL Abacus Standard
Place Value Cards
Abacus Tiles
Cards for Math Games
Geoboards
Colored Tiles
Geared Clock
Geometry Reflector
Tally Sticks - 50 count
Yellow Is The Sun CD
Game Instructional DVD
---
Similar Items you may enjoy!