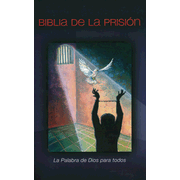 PDT Spanish Paperback Bible for Prisoners
Retail Price: $9.99
Our Price: $7.99
Save: 2.00 (20.02%)

Availability: In Stock

La Biblia de Easy-To-Read (ERV) es preparado específicamente para personas que necesitan una traducción que exprese con precisión el significado completo del texto original en un estilo claro y fácil de entender.
Escrito en un grado de tercer nivel, con frases muy cortas de lectura y utilizando un vocabulario limitado, la traducción es uno de la más simple traducción fácil de leer. Es especialmente útil para aquellos que tienen una limitada experiencia con el inglés, incluyendo niños y personas que apenas están aprendiendo a Inglés como segundo idioma (ESL). Está diseñado para ayudar a superar las dificultades más comunes para la lectura con comprensión.
Un módico precio lo hace ideal para la distribución a granel de ESL, alcance y evangelismo.
La palabra de Dios: su viaje a la libertad edición incluye lecciones para los presos, escritos especialmente para usted. Esto puede ser su primera vez en la cárcel, o puede haber dentro de antes. Se puede encontrar en mucho tiempo, o que tenga una oración corta. Cualquiera que sea su situación, usted encontrará información útil en estas páginas.
Características
Introducción a la Biblia
Plan de lectura diaria
Lista de palabras/Glosario
Seis páginas de mapas a color de dos
"Dios se preocupa cómo te sientes" índice de versículos de la Biblia
tamaño de texto de 7 puntos
8.25 "x 5.25" x 1.50 "
The Easy-To-Read Bible (ERV) is prepared specifically for people who need a translation that accurately expresses the full meaning of the original text in a style that is clear and easy to understand.
Written at a third-grade reading level, with very short sentences and using a limited vocabulary, the translation is one of the simplest easy-to-read translation available. It is especially helpful for those who have limited experience with English, including children and people who are just learning English as a second language (ESL). It is designed to help overcome common difficulties for reading with understanding.
A modest price makes it ideal for bulk distribution for ESL, outreach, and evangelism.
The God's Word: Your Journey To Freedom Edition includes lessons for prisoners, written especially for you. This may be your first time in prison, or you may have been inside before. You may be in for a long time, or you may have a short sentence. Whatever your situation may be, you will find helpful information in these pages.
Features
Introduction to the Bible
Daily Reading Plan
Word List/Glossary
Six pages of two-color maps
"God Cares How You Feel" index to Bible verses
7-point text size
8.25" x 5.25" x 1.50"
---
Similar Items you may enjoy!