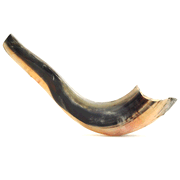 Deluxe Polished Ram's Horn Shofar: 14 to 16 inches

Author: Amanacore
Retail Price: $100.00
Our Price: $49.49
Save: 50.51 (50.51%)

Availability: In Stock



Highly polished ram's horn shofar for personal or church use; authentic ram's horn to sound a trumpet-like call for worship.

The shofar is created from an animal horn, making each one unique in shading, color, and pattern variations.Handcrafted polishing by artisan craftsmen; a symbolic and functional work of art.

Beautiful details show up on glossy ram's horn shofar, highly polished on both sides; pattern and shading is different on each; no two the same. Size ranges from 14' to 16' long.

A reminder of the ram caught in the thicket when Abraham was about to sacrifice his son Isaac; a sound of joy for Rosh Hoshannah and Yom Kippur and a blast of strength in times of warfare, and other biblical and Judaic applications. The ram's horn is taken from a kosher animal, cleaned, and curved. Each shofar is distinctive in design and shape.
---
Similar Items you may enjoy!