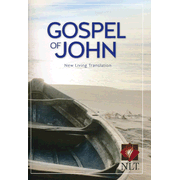 NLT Gospel of John - Paperback - Pocket Size
Retail Price: $1.25
Our Price: $0.50
Save: 0.75 (60.00%)

Availability: In Stock

Read, Believe, and Receive!
The Gospel of John is a vivid word-picture of the life of Jesus Christ. Its impact on readers has transformed countless millions of people across the nineteen centuries since it was written by the apostle John. Gain a deeper knowledge of God, a more intimate fellowship with his Son, and a deeper dependence on his Holy Spirit.
Features italicized verses that affirm the character and identity of Jesus, underlined verses that point the way to Christian living and growth, and boldfaced verses that accent the good news of God's forgiveness and the gift of eternal life.
This small, low-priced booklet is sized just right: 4' wide x 5.5' high. 72 pages.
---
Similar Items you may enjoy!