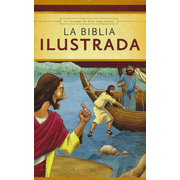 PDT Children's Paperback Bible
Retail Price: $10.99
Our Price: $8.99
Save: 2.00 (18.20%)

Availability: In Stock

La Palabra de Dios para Todos® Ilustrada se diseñó para ofrecer a las familias y a las iglesias una forma de presentar la palabra de Dios de una manera simple y divertida que ayudará a que todos entiendan el plan d Dios para su vida.
Las ilustraciones de estilo familiar y gran colorido mostrarán el significado de la palabra de Dios, incluso a aquellos que no están familarizados con la Biblia, ya que además de leer y escuchar las grandes historias de la Biblia, estas cobrarán vida.
Utilice esta Biblia de fácil lectura en casa, en la iglesia o para dar como regalo. La fácil lectura y el estilo atractivo de las ilustraciones ayudarán a todos a grabar estas historias en la mente y el corazón para toda la vida.
The Easy-to-Read™ Illustrated Bible was designed to give families and churches a way to introduce God's Word in a simple and enjoyable form that will help anyone understand the plan God has for their lives.
The everyday style and colorful illustrations on these pages will open the meaning of God's Word, even for those who are not familiar with the Bible. Seeing as well as reading and hearing the great stories of the Bible will make them come to life.
Use this Easy-to-Read Bible in your home, your church, or as a gift. The easy-reading style and captivating pictures will help anyone keep these stores in their hearts and minds for a lifetime.
---
Similar Items you may enjoy!