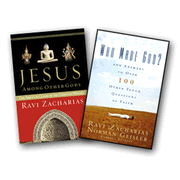 Ravi Zacharias 2 Volume Pack

Retail Price: $32.98
Our Price: $18.49
Save: 14.49 (43.94%)

Availability: In Stock



2 Volume Pack

Who Made God? And Answers to Over 100 Other Tough Questions of Faith - How can there be three persons in one God? Why does God allow evil? What is the origin of the universe? Did Jesus rise from the dead? What about other faiths, such as Islam, Mormonism, Hinduism, reincarnation and Buddhism? Expert evangelical apologists answer all these tough questions-and many more.

Jesus Among Other Gods - No such thing as absolute truth? Christian apologist Ravi Zacharias' work is a brilliant defense of the unique truth of the Christian message. Exposing the futility of Islam, Hinduism and Buddhism, he also highlights his own journey from despair and meaninglessness to the discovery that Jesus is the Way, the Truth and the Life.
---
Similar Items you may enjoy!