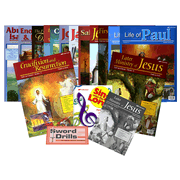 Abeka Grade 4 Bible Curriculum Kit

Retail Price: $338.35
Our Price: $338.35
Save: 0.00 (0.00%)



Encourage students to see God's Word as a fascinating subject that's relevant and important to their young lives.

Abeka Bible curriculum kits contains all necessary Flash-A-Cards for the year; a songbook for hymns/choruses with accompanying CD; and a daily lesson planner. This grade 4 curriculum includes lessons on salvation, Genesis, Life of Christ, and Paul. Memory verses and hymns/choruses are integrated into the curriculum, as well as lessons on doctrine.

This kit includes:
Salvation Series Flash-a-Card
Creation, Adam, and Cain Flash-a-Card
Enoch, Noah, and Babel Flash-a-Cards
Abraham and Isaac Flash-a-Card
Jacob Flash-a-Card
Joseph Flash-a-Card
First Thanksgiving Flash-a-Card
First Christmas Flash-a-Card
Boyhood and Early Ministry of Jesus Flash-a-Card
Jesus Heals and Helps Flash-a-Card
Later Ministry of Jesus Flash-a-Card
Crucifixion and Resurrection Flash-a-Card
Life of Paul Series 1 Flash-a-Card
Life of Paul Series 2 Flash-a-Card
Sing unto the Lord Songbook
Grade 4 Sing unto the Lord CD
Grade 4 Bible Curriculum
Sword Drills Book

---

Similar Items you may enjoy!