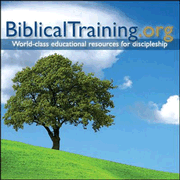 Bible Survey: Biblical Training Classes
Author: Bert Downs
Retail Price: $9.95
Our Price: $9.95
Save: 0.00 (0.00%)

Availability: In Stock

For some of us our knowledge of the Bible is like a refrigerator door covered with post-it notes, each containing an important message but there is no coherence between them. For some it's like reading a Dictionary; a lot of important pieces of information but no thread to the story. This course will help you make sense of all those pieces. Dr. Downs will give you a file cabinet containing major folders into which you can insert your individual file folders. If you want to be able to summarize the Bible on a table napkin, this will give you a way to do that.
*This product is a CD containing MP3 audio lectures. Some CD player models may not be able to read the disc. It is recommended that you use a computer or any other MP3-CD compatible device to play.
---
Similar Items you may enjoy!