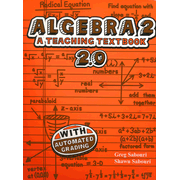 Teaching Textbooks Algebra 2 CD-Rom Set, Version 2.0
Retail Price: $154.95
Our Price: $154.95
Save: 0.00 (0.00%)

Availability: In Stock

The Teaching Textbook Solution CDs contain audiovisual solutions to every single one of the homework problems in the textbook (which is not-included and sold-separately). Whether you wish students to proceed more independently, or simply want to give him or her access to a library of quality explanations to supplement and reinforce understanding, this is the tool you need.
The Lecture & Practice CDs contain 10-15 minute lectures for every lesson in the print textbook. Twenty new lessons on more advanced topics and over 150 extra problems and solutions are also included. Ideal for students who benefit from listening and watching in addition to reading. Over 120 hours of instruction.
System Requirements:
For Windows:
A CPU of 1.0 GHz or faster (2.0 recommended)
A Windows XP or later operating system (Including Windows 10)
1 GB RAM (2GB recommended)
A 4x CD-ROM drive
Speakers
For Mac:
A CPU Processor type of: G3 PowerPC / Intel Solo
Processor Speed of: 500 MHz / 1.0 GHz or faster (2.0 Ghz recommended)
A MAC OS 10.4 through 10.11
1 GB RAM (2 GB Recommended)
A 4x CD-ROM drive
Speakers
---
Similar Items you may enjoy!