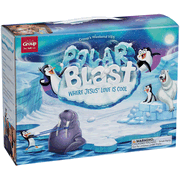 Polar Blast Starter Kit - Group Weekend VBS 2018
Retail Price: $74.99
Our Price: $67.49
Save: 7.50 (10.00%)

Polar Blast: Where Jesus' Love Is Cool, the 2018 Weekend VBS from Group, where kids chill with new friends and warm up to Jesus - the coolest friend of all. Sled into an ice way to spend the ultimate summer weekend learning:
Theme Verse: I trust in your unfailing love. (Psalm 13:5)
Session 1 Bible Story: Jesus welcomes the children. (Luke 18:15-17)
Session 2 Bible Story: Jesus welcomes a criminal before dying and coming back to life. (Luke 23:26-24:12)

Polar Blast's VBS Starter Kit includes:
Director Go-To Guide: Everything directors need to plan and host a successful VBS (from planning & recruiting volunteers, to registration & closing celebration) .
Station Leader Manuals: From Music and More to Cool Bible Adventures and Projects-With-a-Purpose®, your volunteers will be guided through the steps of each daily VBS station.
Music & Media: DVD and CDs packed with resources to create a great VBS environment. The Music Leader Version CD includes all 5 Polar Blast songs with and without vocals. Plus, the Program Resources DVD includes tips to help get your volunteers and church ready for launch!
Sample Samples: Examples of all the student resources that help kids remember the life-long lessons of Polar Blast VBS. Inside your sample pack you'll find a Pip the Penguin Bible Memory Buddy plus other great samples.
Group's Weekend VBS is just two 2.5 hour sessions, plus a 20 minute celebration on Sunday, so it's easy for your volunteers and your families. It's perfect for churches that are small, haven't done VBS, are considering skipping VBS, or even those that just can't get enough VBS!
---
Similar Items you may enjoy!