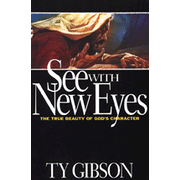 See With New Eyes: The True Beauty of God's Character

Author: Ty Gibson
Retail Price: $13.99
Our Price: $12.59
Save: 1.40 (10.01%)

Availability: In Stock



To see most things, one's eyes need to be open. But not so with God. If you open your eyes too wide or look too closely, you're likely to miss Him while thinking you have seen Him. Most of us make this very mistake. We look at people expecting to see God. We look at religions. We even look in the mirror. Inevitably we are disappointed, because we had hoped for a nicer picture of the Divine One. Countless people have turned away from God because they thought they saw Him in a person or in a church ... and, quite frankly, they didn't like what they saw.

See With New Eyes is about God. It's not about people or religions that claim to represent God, but about God Himself, as He has represented Himself in the one true portrait of His character.

As it turns out, God is exactly the kind of person we had hoped He would be. He is extremely beautiful. But you must close your eyes and open your heart to see Him. Close your eyes to the ugly pictures of deity so prevalent in our world and open your mind and emotions to the crystal-clear image of God in the person of Jesus Christ.
---
Similar Items you may enjoy!