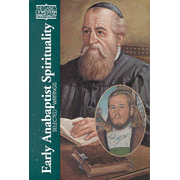 Early Anabaptist Spirituality: Selected Writings (Classics of Western Sprituality)

Author: Daniel Liechty
Retail Price: $24.95
Our Price: $19.99
Save: 4.96 (19.88%)

Availability: In Stock



Beginning in the 1500s, the Radical Reformation was an attempt to reform Christianity without relying on secular power or authority. In this way, it took a different path than the Protestant Reformation of Calvin and Luther. Until this time, 'all people in Christian Europe were assumed to be Christians by right of birth' and were baptized as infants. The Anabaptists (literally 're-baptizers') were so-called because of their conviction that faith was not determined by the area in which one lived, but by a conscious choice of the individual. Therefore, they baptized only 'Believers,' necessitating the 're-baptism' of any who had undergone this rite as infants.

This excellent collection of primary source materials, many of which were not previously available in English translation, highlights the character of the movement in its lay orientation. Readers will find no long theological treatises here. Instead, the tenets of early Anabaptist spirituality surface in 'letters from prison, hymns, and short, ad hoc writings of immediate and practical concerns.'

Daniel Liechty is a graduate of Eastern Mennonite College and Mennonite Biblical Seminary. After spending three years on assignment in Europe with the Mennonite Central Committee, Liechty completed doctoral studies at the University of Vienna in Austria. His research focused on Sabbatarian ideology among Anabaptists and Unitarians in East Central Europe. Upon returning to the United States, Liechty became interested in mental health issues and completed graduate degrees in clinical social work and pastoral counseling. In 1999, he joined the Graduate Faculty of Illinois State University (Normal, Ill.) in the School of Social Work.
---
Similar Items you may enjoy!