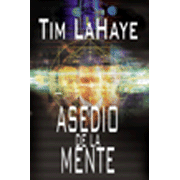 Asedio de la Mente / Mind Siege - Spanish Ed.

Author: Tim LaHaye
Retail Price: $16.99
Our Price: $12.99
Save: 4.00 (23.54%)



Authors Tim LaHaye and David Noebel are sounding trumpets of alarm, calling us to wake up and defend our right to believe and behave as Christians. Already Christianity has been silenced in our schools and driven from the public arena. Abortion rights, gay and lesbian rights, feminist rights, and atheistsights have virtually eclipsed any rights Christians used to enjoy. The authors insist that the conflict is between the biblical Christian and the Secular Humanist worldviews. This is a battle for our minds, a war to decide whether our thoughts will be shaped by the wisdom of men like Marx, Darwin, Freud, and Neitzche, or by the wisdom God shared through Moses, the prophets, the apostles, and Jesus.

Tim LaHaye y David Noebel hacen sonar trompetas de alarma, y nos llaman a despertar y a defender nuestro derecho a creer y a actuar como cristianos. La cristiandad ya ha sido silenciada en nuestros colegios, y echada fuera de los foros públicos. El derecho al aborto libre, los derechos de los homosexuales, las lesbianas, los feministas y los ateos prácticamente han eclipsado los derechos de que gozaban los cristianos. Los autores insisten en que se trata de un conflicto entre dos cosmovisiones diferentes: la cristiana bíblica y la humanista secular. Es una batalla por nuestra mente, una guerra para decidir que es lo que modelará nuestros pensamientos: si la sabiduría de hombres como Marx, Darwin, Freud y Nietzsche, o la sabiduría que Dios nos envió por medio de Moisés, los apóstoles, los profetas y Jesús.
---
Similar Items you may enjoy!