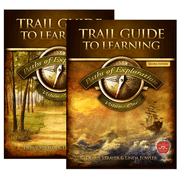 Trail Guide to Learning: Paths of Exploration Volumes I and II, Second Edition - Slightly Imperfect

Author: Debbie Strayer
Retail Price: $160.00
Our Price: $100.87
Save: 59.13 (36.96%)

Availability: In Stock



Give your students the tools to learn HOW to think about history, instead of expecting a mere recitation of facts! Six units cover language skills, science, history, geography, art and thinking skills as students learn about Columbus, Jamestown and the Pilgrims in Volume 1, and Daniel Boone, Lewis & Clark, and Trails West in Volume 2. Each unit features six lessons with five parts that are designed fit within a week or shifted to suit your scheduling needs. Small icons mark the appropriate grade level of activities, allowing this curriculum to be used for students in 3rd, 4th, and 5th grades, and with enrichment activities students in the 6th grade.

Opening with 'Steps for Thinking', each lesson is clearly structured and labeled, with teacher notes and any materials needed listed on the side. The main content is interspersed with lesson instructions that are written directly to the child, creating a smooth flow for each day's work.

Lessons include copywork/dictation activities; reader assignments that bring real literature into the curriculum; Parent Read-Aloud, Discussion, Narration, and Reflective Writing activities; and a word study to help students gain contextual vocabularies, as well as improve their spelling skills. Geography, Science and History connections weave history together with geography, while the Charlotte Mason approach to science helps children observe, record, and evaluate nature. Writing exercises are integrated throughout as a response to lessons, while drawing activities help students to improve their powers of observation. 'Doing' activities help students think through the information they've learned, while receiving additional motivation.

The included Student Notebook (to be downloaded with registration code) serves as a portfolio of student work with maps, charts, copywork passages for lower grades, unit games, and checklists. While the first edition featured a CD-ROM, this 2nd edition code allows for access to the most recently updated digital downloads.

This second edition features a number of updates and improvements:
Lessons now include spelling lists that are geared to the literature, while often directing focus to specific spelling strategies.
New games include spelling scrambles and spelling word searches.
Age-appropriate grammar concepts are reinforced through practice and games.
Two new books in the Pilgrims unit, Sarah Morton's Day and Samuel Eaton's Day, help children get a feel for life from a child's perspective in that time period.
Unit summaries provide a glimpse of what is covered for each six weeks, including materials and resources used.
The two appendices are now combined into one and arranged by unit rather than by topic.
The teacher section includes lesson at a glance charts, challenge spelling words, vocabulary lists, and more. Slightly Imperfect.

---

Similar Items you may enjoy!