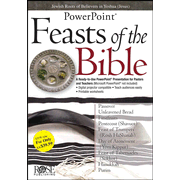 Feasts and Holidays of the Bible - PowerPointandreg; [Download] [Download]
Retail Price: $36.99
Our Price: $26.39
Save: 10.60 (28.66%)

Availability: In Stock

The Feasts & Holidays of the Bible PowerPoint presentation allows you to teach through 10 feasts and holidays using colorful illustrations, photographs, and easy-to-understand bullet point lists. This presentation includes Hebrew lettering, pronunciation, Jewish calendar, symbolism, Bible references, teacher notes, and more. Includes printable handouts with additional information about the feasts and holidays.
Covers
Passover
Unleavened Bread
Firstfruits
Shavuot (Pentecost)
Rosh HaShanah (Feast of Trumpets)
Yom Kippur (Day of Atonement)
Sukkot (Feast of Booths)
Simchat Torah
Hanukkah (Chanukah)
Purim
System requirements
Microsoft PowerPoint 2001 or higher
Adobe Acrobat Reader 4.0 or higher (to print handouts)
Pentium III or better
CD-ROM drive
Windows requirements: Windows 98, NT 4 SP 6, Me, XP
Mac requirements: OS 8.5 or higher; PowerPC; G3 or higher
---
Similar Items you may enjoy!