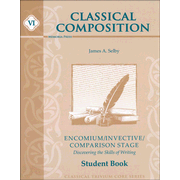 Classical Composition, Encomium, Invective, and Comparison, Student Guide - Slightly Imperfect

Author: Jim Selby
Retail Price: $19.95
Our Price: $13.99
Save: 5.96 (29.87%)

Availability: In Stock





Continue to use the classical approach in all of your subjects- - including writing! Memoria Press' Classical Composition program has updated the teacher's manuals that go along with their updated versions of author James Selby's classic homeschool curriculum.

This series is designed for students as young as 6th grade, and teaches students the fourteen composition skills known as the progymnasmata. This Encomium/Incvective/Comparison level VI stage provides 18 lessons that comprise the 6th of 14 stages.

Students read a passage, and then complete a set of paragraph-writing exercises that are repeated from lesson to lesson; these paragraphs are then combined into a final essay for each lesson. Students will begin with a thesis statement in a prologue paragraph before moving on to paragraphs covering the subject's source (or birth or origin), education (the purpose of the subject in question and what results from that purpose), achievements (describes the results of the subject, including traits), comparison (a way to enhance arguments for or against the subject via comparison), and an epilogue that concludes the essay. Questions guide students through each section to help them move in the right direction. Students will hopefully gain the skills necessary to effectively communicate through both written and oral composition while mastering memory and delivery skills and developing vocabulary, diction, spelling, grammar, style, word variation, sentence structure, and more.

9th Grade is the recommended grade for this set of books; however it may be used by older students. 148 pages, softcover. Non-reproducible, consumable worktext. Classical Composition Book VI / Book 6.

Slightly Imperfect.
---
Similar Items you may enjoy!