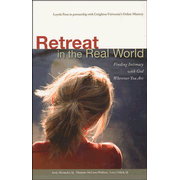 What if you could experience a personal retreat in the truest sense of the word personal: on your own time, in your own way, in a location of your choosing? With Retreat in the Real World by Andy Alexander, SJ, and Maureen McCann Waldron, a personal Ignatian retreat is literally no farther away than your fingertips. This 34-week retreat can be started at any point in the calendar year, can be done anywhere, and can be experienced on your own or in conjunction with others.

Each of the weeks includes background information, a simple reflection, prayer helps, and Scripture readings, along with beautiful photography by Don Doll, SJ. This highly popular personal retreat was originally offered online through Creighton University's Online Ministries. Paperback.
---
Similar Items you may enjoy!