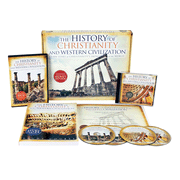 Did you know that architecture is inherently religious? That God sent an earthquake to warn the people of Pompeii of their wickedness, but because the warning was rejected, God destroyed Pompeii? Why you should fear America facing a similar judgment?

'America is a nation that has been enjoying a deposit of blessings which was created centuries ago. This deposit is almost completely gone.' Discover your role as a Christian to take captive everything for Christ-even architecture and art! Learn why you 'may not leave it to the pagans!,' and teach yourself how analyze every area of life to see if it's properly portraying man's position on earth and his proper response to the Creator.

Comprised of a study guide with lecture summaries, group discussion questions and a list of recommended readings for each DVD 'field report,' Vision Forum's History of Christianity and Western Civilization course focuses on Rome, Geneva, England, and Scotland, all through an explicitly biblical lens. Covers Western history through the Scottish Reformation.

This kit includes:
2 DVDs, each run time over 4 hours; 50 segments.
MP3 CD Audio Lecture Series; running time 24 hours; 50 lectures.
232 page study guide with test/quiz.
Certificate of Completion Slightly Imperfect.

---

Similar Items you may enjoy!