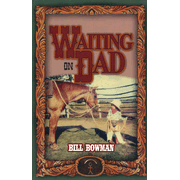 Waiting on Dad - Slightly Imperfect

Author: Bill Bowman
Retail Price: $15.99
Our Price: $9.35
Save: 6.64 (41.53%)

Availability: In Stock



'Waiting on Dad' is a collection of short stories written by a man who has learned the value of 'waiting' upon His creator! In Bill's writings you will find the hidden secrets of knowing and loving your Heavenly Father.

Born in a seemingly unnoticeable community such as Skiatook, Oklahoma to a family somewhat like your own; God will open up to you thru Bill's life the eternal value of God's sovereign choice of birth.

As God prepared David in the sheepfolds of Israel so Bill was sovereignly placed under the tutorship of his father. Little did they know in those growing years that God was building a lifetime of teaching parables in the heart and mind of Bill.

Whether you see yourself atop the sorrel filly waiting for your Dad, coming to grips with the struggle of sovereignty as you see yourself thrashing against the pricks in 'The Three Colts' or finding the answer to the question you have asked all your life, 'Who Am I' in 'My Mother was a Duck;' I can promise you God will speak to you in these stories.

God has looked thru this Earth to find a man that he could show himself mighty thru. If you need the love of a Heavenly Father read Waiting On Dad; see the boy; see the man Bill Bowman and you will experience 'The Father.'

Slightly Imperfect.
---
Similar Items you may enjoy!