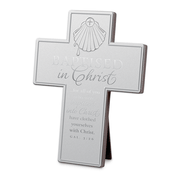 Baptised in Christ Metal Cross

Retail Price: $14.99
Our Price: $6.75
Save: 8.24 (54.97%)

Availability: In Stock



Baptism keepsake gift, tabletop cross in metallic finish with raised silver shell motif and border. Features Scripture reference to Galatians 3:27, ...for all of you who were baptised into Christ have clothed yourselves with Christ. 6.5' x 5'; easel backed.

Please note: Sometimes we offer amazing savings, due to slight discrepancies, which is the case here. Metal baptism cross is imprinted with the correct Bible verse but not the right verse number. Also you'll notice the British spelling of baptised, taken from the NIV UK version.The cross is a meaningful baptism keepsake, despite these issues and it is our hope you will enjoy gifting this baptismal Scripture cross.
---
Similar Items you may enjoy!

Amor, Cruz de Metal (Love, Metal Cross)
Our Price: $17.99


Metal Overlay Cross Stretch Bracelet, Large Silver Cross, Medium Gold Cross
Our Price: $4.99


Be Brave and Courageous, Joshua 1:9, Layered Wall Cross, Maps and Metal Cross
Our Price: $42.99


For the Lord Your God is With You Wherever You Go, Joshua 1:9, Layered Wall Cross, Maps and Metal Cross
Our Price: $25.99