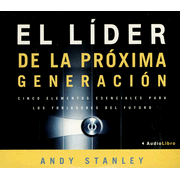 El Land#237;der de la Prand#243;xima Generaciand#243;n, Audiolibro (The Next Generation Leader, Audiobook), CD
Author: Andy Stanley
Retail Price: $16.99
Our Price: $12.99
Save: 4.00 (23.54%)

Basándose en dos décadas de experiencia como mentor de una nueva generación Andy Stanley nos muestra como: descubrir y actuar según nuestros puntos fuertes, dominar el miedo, controlar la incertidunmbre, y mantener la autoridad moral. Stanley ofrece una perspectiva fresca acerca de las verdades eternas que beneficiarán tanto a los líderes de hoy, como a generaciones futuras. 3 CDs. Leído por Marco A. Molina. Aprox. 4 horas.
Based on his two decades of mentoring experience, Andy Stanley demonstrates how to discover our strong points and act on them, how to dominate our fear, control our uncertainty, and maintain moral authority. Stanley offers a fresh perspective about eternal truths which will benefit today's leaders as well as future generations. 3 CDs. Read by Marco A. Molina. Approx. 4 hours.
---
Similar Items you may enjoy!