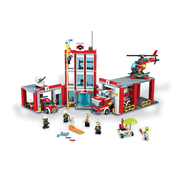 LEGO andreg; City Fire Station

Retail Price: $99.99
Our Price: $84.99
Save: 15.00 (15.00%)

Availability: In Stock



Help the firefighters get the truck and helicopter loaded with gear at the LEGO® City Fire Station! It's lunchtime, so take a slide down the pole in the firehouse and head to the hot dog stand. On your way, give the firehouse dog his bone. Oh no, the hot dog stand is on fire! Pull out the fire hose and use the special stud-shooter to douse the flames and save the hot wings.

The LEGO City Fire Station set comes with:
6 minifigures: 4 male firefighters, a female firefighter and a hot dog stand guy, plus a dog
Features a Fire Station with 2 garages and a firehouse, in 3 modular sections to build, with a total of 9 different building combinations
Also includes the fire chief's car, fire truck with cherry picker, helicopter and a hot dog stand
Accessory elements include a flashlight, walkie-talkie, fire extinguisher, axe, saw, coffee machine, mug, bone, chicken leg and 2 sausages
Fire Station measures over 12' (31cm) high, 16' (59cm) wide and 9' (29cm) deep
Fire truck measures over 3' (9cm) high, 9' (24cm) long and 2' (6cm) wide
Helicopter measures over 3' (9cm) high, 6' (17cm) long and 1' (6cm) wide
Fire chief's car measures over 1' (5cm) high, 4' (11cm) long and 1' (5cm) wide
Hot dog stand measures over 2' (7cm) high, 3' (6cm) wide and 2' (7cm) deep
LEGO City Fire Station has a total of 919 pieces, and is designed for ages 6 - 12 years old
---
Similar Items you may enjoy!