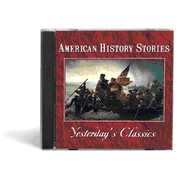 American History Stories, MP3 CD

Retail Price: $25.00
Our Price: $19.99
Save: 5.01 (20.04%)

Availability: In Stock



Over 200 chapters will carry you from the time of the explorers through the end of the Civil War with short stories, song lyrics, poetry, and some singing! Hear stories of conflicts over religion, troubles with the Indians, the French and Indian War, the causes of the American Revolution, the daring exploits of those defending liberty, the early battles and struggles of the army, the heroes who led the colonists to victory, anecdotes from the time Washington became president, the War of 1812, the rise of Andrew Jackson, the sectional differences leading to the Civil War, stories from the time Lincoln and the southern states seceding, through the battles of Bull Run, Shiloh, Antietam, Vicksburg, Gettysburg, Chickamauga, until the close of the war.

Perfect for learning plentyof American History in an entertaining fashion! 14+ hours long.

This is an MP3 CD and will thus play on computers, DVD players, and MP3-compatible CD Players only.
---
Similar Items you may enjoy!