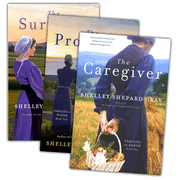 Families of Honor Series, Volumes 1-3

Retail Price: $38.97
Our Price: $26.49
Save: 12.48 (32.02%)

Availability: In Stock



The Survivor #3 - New York Times Bestseller - Mattie has faced more in her twenty-three years than she ever imagined possible. Having successfully battled cancer, she's ready to reenter the world with hopes for her future. But while she was in and out of hospitals, other Amish girls her age were courting and finding the men they would marry. The only man who's ever made her heart beat faster is Graham Weaver, her best friend, who has always been there to comfort her, in good times and bad. Is it finally time for their friendship to become something more?

The Protector #2 - New York Times Bestseller 2011! - When her mother passes away, Ella's forced to auction off her family's farm. Her father died years ago, and she could never manage the fifty acres on her own. But after she moves to town, she can't deny the pain she feels watching the new owner, Loyal Weaver, repairing her family's old farmhouse-everything Ella had once dreamed of doing.

The Caregiver #1 - Two lives converge one stormy night on a train headed to Cleveland.
Lucy is traveling by herself via train to Jacob's Crossing to help care for her cousin Mattie, recently diagnosed with breast cancer. Trying to overcome the sudden death of her husband, she's glad to get away and focus on someone else for a while.

The only other Amish people on the train are Calvin Weaver and his little sister, Katie. When their train breaks down outside of Cleveland, Calvin and Lucy band together to face the outside world. But Calvin also carries the weight of past hurts. When an altercation brings both their wounds to light, they question whether they can trust each other.
---
Similar Items you may enjoy!