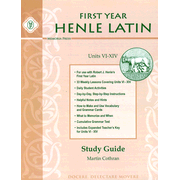 Henle Latin 1 Study Guide for Units 6-14

Author: Martin Cothran
Retail Price: $14.95
Our Price: $12.99
Save: 1.96 (13.11%)

Availability: In Stock



Memoria Press' First Year Henle Latin Guide for Units VI-XIV is designed to be used alongside the primary (sold-separately)Henle Latin 1 Text.

Featuring daily step-by-step instructions, this guide will help keep you and your student on track to learning Latin. This book set is to be used after the preceding First Year Henle Latin Guide for Units III-V, where the student would have been focused on verbs. This third-year guide covers advanced syntax, including relative clauses, irregular words, and the subjunctive mood.

Primarily serving as a detailed checklist of what needs to be accomplished in order to finish the Henle Latin text, each page lists out the week's lesson in checklist form, with the day numbers noted in the margin. Primary checklist categories include assignments and page numbers for reading, exercises, grammar cards, vocabulary, review, answer checks, and quizzes. A large, cumulative grammar test is provided after the weekly lesson plans, with fill in the blank and short answer questions. An answer key both for the cumulative test, as well as for the Henle Latin Text exercises, is also included.

A suggested schedule is included for teachers. Following the schedule, this book will take homeschoolers one year to work through, covering two sections a week over 33 weeks, with activities given for five days each week. This book requires students to cover more exercises and reading than the first two guides, but there are additional days for review, with exercises often broken up.

124 non-reproducible pages, softcover. Grades 10-11.
---
Similar Items you may enjoy!