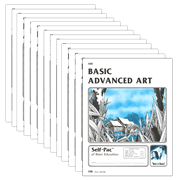 High School Fine Arts Elective: Advanced Art PACEs 97-108
Retail Price: $39.60
Our Price: $38.49
Save: 1.11 (2.80%)

Accelerated Christian Education (ACE) curriculum has Scripture as its foundation, fully integrating biblical principles, wisdom, and character-building concepts into education. Students move at their own speed through the self-instructional 'PACE' workbooks. Following the mastery approach, PACEs are formatted for students to complete the exercises found throughout the workbook, take a practice 'self test,' and conclude with a 'final test' (torn out from the center), to measure understanding.
This set includes Basic Advanced Art PACEs 97-108, which covers:
Studies an introduction to the tools of art: the pencil, pen and ink, and paints.
Learns the principles of design: symbols, rhythm, shapes, and awareness.
Investigates the hue, value, intensity, and proportion of color, and paints in color.
Designs clothing, draperies, still figures, and figures in motion.
Learns about observation, point of view, perspectives, and light and shade.
Examines chalk talks (materials, setup, tools for success) and generates a program.
Discovers lettering, layouts, spacing, and other techniques designed to help the student integrate thelearned material.

A variety of exercises help with review and retention; paperback booklets. Grade High School PACE 97-108.

Answer SCORE keys are not required or available.
---
Similar Items you may enjoy!