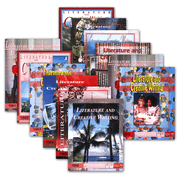 Grade 6 Literature and Creative Writing PACEs 1061-1072
Retail Price: $38.40
Our Price: $37.49
Save: 0.91 (2.37%)

Availability: In Stock

Accelerated Christian Education (ACE) curriculum has Scripture as its foundation, fully integrating biblical principles, wisdom, and character-building concepts into education. Students move at their own speed through the self-instructional 'PACE' workbooks. Following the mastery approach, PACEs are formatted for students to complete the exercises found throughout the workbook, take a practice 'self test,' and conclude with a 'final test' (torn out from the center) to measure understanding.
Students will learn about how to read and interpret literature, as well as how to use imagination to craft their writing. This set includes PACEs 1061-1072, and covers:
Locating words in a dictionary, identifying word families, and defining new vocabulary words.
Writing expository and descriptive paragraphs, essays, simple and detailed explanations, directions, personal diary entries; cause and effect; fact and opinion; and exposition, description, persuasion, and narration.
Identifying figures of speech, sensory detail, and climax and resolution of story. Solves word and logic puzzles.
Converting information into bar graphs.

Full-color illustrations incorporate maps and other skills, while fill-in-the-blank/word-bank/multiple-choice type exercises help with review and retention.

27 pages each, paperback booklets. Grade 6. PACE 1061-1072.

Answers are not included, but are available in the sold-separately Literature & Creative Writing SCORE Keys 1061-1072, Grade 6.

Please Note: the sold-separately ACE Literature & Creative Writing Required Resource Books, Grade 6 set is required to complete this curriculum.
---
Similar Items you may enjoy!