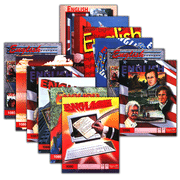 Grade 8 English PACEs 1085-1096
Retail Price: $39.60
Our Price: $38.59
Save: 1.01 (2.55%)

Availability: In Stock

Accelerated Christian Education (ACE) curriculum has Scripture as its foundation, fully integrating biblical principles, wisdom, and character-building concepts into education. Students move at their own speed through the self-instructional 'PACE' workbooks. Following the mastery approach, PACEs are formatted for students to complete the exercises found throughout the workbook, take a practice 'self test,' and conclude with a 'final test' (torn out from the center) to measure understanding.
Students will learn about how to write correctly as they learn grammar, reading, and writing skills. This set includes English Grade 8 PACEs 1085-1096, which cover:
Verbs and verb tenses, progressive form, and the emphatic mood.
Diagramming pronouns, adjectives, adverbs, prepositional phrases, compound subjects and verbs, and all four sentence patterns.
Noun functions in sentences-compound, collective, plural, possessive, and subject/verb agreement.
Five kinds of pronouns (demonstrative, relative, interrogative, reflexive, and indefinite), the three cases of personal pronouns (nominative, objective, and possessive), subject pronoun/verb agreement (number, person, and gender), and diagraming pronouns.
Parts of speech.
Writing skills which include topic sentences, outlining, and paragraph development.
Editing written paragraphs to ensure that correct grammar is used.
Recognizing sentence fragments and run-on sentences.
Writing several short biographical sketches.

Fill-in-the-blank, word-bank, and multiple-choice type exercises help with review and retention. Paperback booklets. Grade 8. English. PACEs 1085-1096.

Answers are not included, but are available in the sold-separately SCORE key.
---
Similar Items you may enjoy!