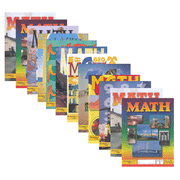 Grade 9 Algebra 1 PACEs 1097-1108
Retail Price: $39.60
Our Price: $38.59
Save: 1.01 (2.55%)

Availability: In Stock

Accelerated Christian Education (ACE) curriculum has Scripture as its foundation, fully integrating biblical principles, wisdom, and character-building concepts into education. Students move at their own speed through the self-instructional 'PACE' workbooks. Following the mastery approach, PACEs are formatted for students to complete the exercises found throughout the workbook, take a practice 'self test,' and conclude with a 'final test' (torn out from the center) to measure understanding.
Students will develop foundational math skills needed for higher education and practical life skills with ACE's Math curriculum. This set includes Math PACEs 1097-1108 which covers:
Monomial and polynomial expressions.
Algebraic addition, subtraction, multiplication, and division.
Complex fractions: reducing, simplifying, and solving word problems.
Algebraic graphs-linear equations, consistent, inconsistent, and dependent in word problems.
Quadratic equations, factoring, positive and negative numbers, averages, percents, interest, ratios, and proportions, and translating word problems to algebraic equations.
The Pythagorean theorem.

Paperback booklets. Grade 9. Algebra 1. PACEs 1097-1108.

Answers are not included, but are available in the sold-separately SCORE key.
---
Similar Items you may enjoy!