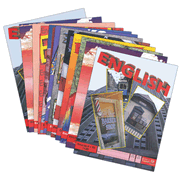 Grade 10 English 2 PACEs 1109-1120
Retail Price: $39.60
Our Price: $38.59
Save: 1.01 (2.55%)

Availability: In Stock

Accelerated Christian Education (ACE) curriculum has Scripture as its foundation, fully integrating biblical principles, wisdom, and character-building concepts into education. Students move at their own speed through the self-instructional 'PACE' workbooks. Following the mastery approach, PACEs are formatted for students to complete the exercises found throughout the workbook, take a practice 'self test,' and conclude with a 'final test' (torn out from the center) to measure understanding.
Students will learn about how to write correctly as they learn grammar, reading, and writing skills. This set includes English II Grade 10 PACEs 1109-1120, which cover:
Using four kinds of paragraphs and correct sentence structure.
Characteristics of writing a biography and an autobiography
Using note and source cards while using the reference books at the library.
Elements of a book and the author's style while reading, studying, and answering questions.
Reading God's Tribesman by James and Marti Hefley and The Hiding Place by Corrie ten Boom and John and Elizabeth Sherrill.
Basic grammar.
Vocabulary through learning and writing new words.
Diagramming the seven basic sentence patterns of simple and complex sentences.
The purpose and type of newspaper articles and writes a newspaper article.
The purpose and appropriate forms of business and social letters and letters of application.
Practical application of library skills.
Identifying and appreciating poetic forms.

Fill-in-the-blank, word-bank, and multiple-choice type exercises help with review and retention. 35 pages each, paperback booklets. Grade 10. English 2/II 1-12. PACEs 1109-1120.

Answers are not included, but are available in the sold-separately SCORE key.

Two books are required to complete this curriculum (both sold-separately):
God's Tribesman
The Hiding Place

---

Similar Items you may enjoy!