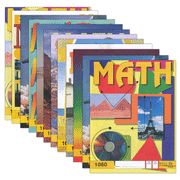 Grade 5 Math PACEs 1049-1060
Retail Price: $36.00
Our Price: $34.99
Save: 1.01 (2.81%)

Availability: In Stock

Accelerated Christian Education (ACE) curriculum has Scripture as its foundation, fully integrating biblical principles, wisdom, and character-building concepts into education. Students move at their own speed through the self-instructional 'PACE' workbooks. Following the mastery approach, PACEs are formatted for students to complete the exercises found throughout the workbook, take a practice 'self test,' and conclude with a 'final test' (torn out from the center) to measure understanding.
Students will develop foundational math skills needed for higher education and practical life skills with ACE's Math curriculum. This set includes Math PACEs 1049-1060, which covers:
New math terms: quotient, dividend, numerator, and denominator.
Addition, subtraction, division, and multiplication with fractions; identifies proper and improper fractions; and reduces fractions to lowest terms.
Factors from least to greatest
Finding the Greatest Common Factor (GCF) and the Least Common Denominator (LCD) of fractions.
Place value of each digit in numbers up to thousands.
Representing and comparing whole numbers and decimals.
Commutative properties of addition and multiplication and estimation.
Comparing numbers, sentences, words, decimals, and fractions using greater than and less than symbols.
Defining and identifying prime numbers.
Charts, pictographs, and line graphs.
Roman numerals 1-399.
Basic geometry-points, lines, rays, and angles; identifies geometric shapes; identifies similar and congruent figures; and finds the volume, perimeter, and area of figures.
Probabilities and ratios.
Simple unit conversions such as centimeters to meters within a system of measurement.

43 pages each, paperback booklets. Grade 5. PACEs 1049-1060.

Answers are not included, but are available in the sold-separately SCORE key.
---
Similar Items you may enjoy!