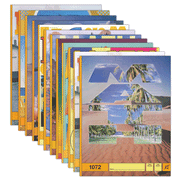 Grade 6 Math PACEs 1061-1072
Retail Price: $38.40
Our Price: $37.49
Save: 0.91 (2.37%)

Availability: In Stock

Accelerated Christian Education (ACE) curriculum has Scripture as its foundation, fully integrating biblical principles, wisdom, and character-building concepts into education. Students move at their own speed through the self-instructional 'PACE' workbooks. Following the mastery approach, PACEs are formatted for students to complete the exercises found throughout the workbook, take a practice 'self test,' and conclude with a 'final test' (torn out from the center), to measure understanding.
This set includes Math Grade 6 PACEs 1061-1072, which cover:
Learns the properties of addition and multiplication-commutative, associative, identity, and zero.
Works with exponents and is introduced to expanded notation using exponents.
Rounds and estimates large numbers and works mental estimation problems.
Learns factoring rules (divisibility rules); identifies prime numbers and composite numbers.
Reviews fractions and fraction terms; adds, subtracts, multiplies, and divides fractions; changesfractions to decimals using long division; and converts fractions to percents.
Reviews decimals; adds, subtracts, multiplies, and divides decimals; defines repeating andterminating decimals; and changes decimals to percents.
Relates percents and decimals to fractions, learns common percents, changes percents to decimals,and finds percent of a number.
Is introduced to integers.
Learns order of operation.
Learns the terms equations and inequalities when comparing number sentences (<, >, =).
Defines a variable and solves equations (one variable) using inverse operations.
Works with ratios and proportions, and uses proportions to solve problems.
Finds the probability of an event, and expresses probability as a ratio.
Uses critical thinking skills to solve word problems.
Defines and interprets circle, line, bar, and double-line graphs.
Builds geometric knowledge; measures angles; finds the perimeter, area, and volume; and defines theparts of a circle.
Rounds money to find estimated costs and solves money problems.
Compares English and metric measurements, and carries out conversions.

A variety of exercises help with review and retention. 49 pages each, paperback booklets. Grade 6. PACE 1061-1072.

Answers are not included, but are available in the sold-separately PACE Score Key Set.
---
Similar Items you may enjoy!