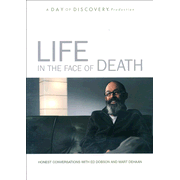 Life in the Face of Death: Honest Conversation with Ed Dobson and Mart DeHaan, DVD
Author: Day of Discovery
Retail Price: $16.99
Our Price: $7.49
Save: 9.50 (55.92%)

Availability: In Stock

For many years Ed Dobson served as a pastor, offering his congregation hope in times of discouragement, pain, and loss. However, when he was diagnosed with ALS and told that he had only two to five years to live, he was not prepared to hear it. Suddenly, the reality of death left him in need of the support and care that he had for so long given to others. Initially he withdrew himself from people and then moved on to begin an uncommon journey toward a new quality of life and purpose.
It's been years since that diagnoses and the beginning of his journey and in this 5-part DVD Ed reveals his unfolding story. Dobson says 'It's not about how long I have left. It's about how I spend the time I do have left.'
Featuring clips from the film series Ed's Story, these honest conversations help to remind us of the challenges of life in the face of death and the perspectives needed that bring peace and hope.
Part 1: It Ain't Over (26 min)
Part 2: Consider the Birds (17 min.)
Part 3: Be There (16 min.)
Part 4: My Garden (17 min.)
Part 5: Ask Forgiveness (17 min.)
Approximate running time: 95 minutes
---
Similar Items you may enjoy!