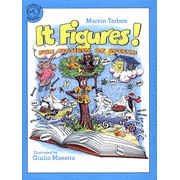 Suppose you want to describe a bumpy road. You could say, 'The road was bumpy' - OK, but not very interesting. Or you could say, 'It was like riding on square tires.' Or, 'The road was a washboard.'

Descriptions like these create very specific pictures in the mind of a reader or listener. Each involves a figure of speech, a way of putting words together that makes your meaning clear, vivid, interesting, and dramatic.

In this book, Marvin Terban, the master of word-play, introduces and explains six important figures of speech - simile, metaphor, onomatopoeia, alliteration, hyperbole, and personification. Examples from the work of great writers, including Mr. Terban's own comic originals, are followed by practical suggestions for creating your own figures of speech and using them effectively.

Want to write livelier, more colorful stories, essays, poems, and letters? It figures!
---
Similar Items you may enjoy!