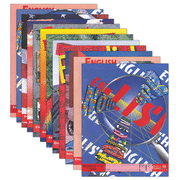 Grade 12 English 4 PACEs 1133-1144
Retail Price: $39.60
Our Price: $38.59
Save: 1.01 (2.55%)

Availability: In Stock

Accelerated Christian Education (ACE) curriculum has Scripture as its foundation, fully integrating biblical principles, wisdom, and character-building concepts into education. Students move at their own speed through the self-instructional 'PACE' workbooks. Following the mastery approach, PACEs are formatted for students to complete the exercises found throughout the workbook, take a practice 'self test,' and conclude with a 'final test' (torn out from the center) to measure understanding.
Students will learn about how to write correctly as they learn grammar, reading, and writing skills. This set includes English IV Grade 12 PACEs 1133-1144, which cover: Is introduced to the different periods of British literature.
Vocabulary notebook.
Writing skills in exposition, description, narration, and persuasion.
Parallelism.
Grammar-capitalization and punctuation.
Dictionary use as a reference tool.
Denotation and connotation.
Paraphrasing and writing summaries while reading The Rime of the Ancient Mariner by Samuel Taylor Coleridge and Silas Marner by George Eliot (special edition).
Shakespeare's life and Macbeth.
The study of speech-topic selection, preparation, speaking methods, and speech delivery.

Fill-in-the-blank, word-bank, and multiple-choice type exercises help with review and retention. 35 pages each, paperback booklets. Grade 12. English 4/IV 1-12. PACEs 1133-1144.

Answers are not included, but are available in the sold-separately SCORE key.

Two books are required to complete this curriculum (both sold-separately):
Silas Marner
The Rime of the Ancient Mariner

---

Similar Items you may enjoy!