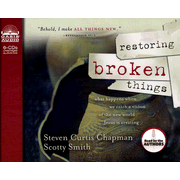 One of the most poignant moments in Mel Gibson's movie The Passion was the scene when, on the cross, Jesus gazed into Mary's troubled eyes and declared the triumph of His coming kingdom: 'Behold, woman, I make all things new.' This meaning and implication of this bold proclamation is the story the authors of this book want to tell. This is the heart of the one 'Big Story' uniting the Bible. It is the unfolding drama of God's commitment to redeem and restore all things through His Son, Jesus. It is a story in which every Christian has been given an important role.

In this profound book, the authors reveal the grandeur and practical implications of Jesus' commitment to make all things new, and the part we are to play with Him in the redemptive process.

Unabridged audio CD; approximately 7 hours; 6 CDs; read by the author.
---
Similar Items you may enjoy!