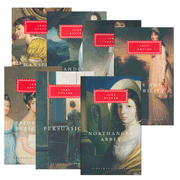 Jane Austen: Emma; Mansfield Park; Northanger Abbey; Persuasion; Pride and Prejudice; Sanditon and Other Stories; Sense and Sensibility
Author: Jane Austen
Retail Price: $151.00
Our Price: $105.99
Save: 45.01 (29.81%)

Availability: In Stock

This magnificent collection of Jane Austen's works will look stunning on your bookshelf. The Everyman's Library edition books are crafted to last through generations of readers; they feature acid-free natural-cream-colored text paper, cloth-covered hardcover covers with stamping, Smyth-sewn bindings signatures, silk ribbon markers, and European-style half-round spines. In addition, these works include original introductions, up-to-date bibliographies, and complete chronologies of the authors' lives and works.
This set of Austen's works includes the following:
Pride and Prejudice, Introduction by Peter Conrad. 368 pages.
Persuasion, Introduction by Judith Terry, 260 pages.
Sense and Sensibility, Introduction by Peter Conrad.367 pages.
Northanger Abbey, Introduction by Claudia L. Johnson. 241 pages.
Emma, Introduction by Marilyn Butler. 495 pages.
Mansfield Park, Introduction by Peter Conrad. 488 pages.
Sandition and Other Stories. Introduction by Peter Washington. 502 pages.
---
Similar Items you may enjoy!

The Complete Novels of Jane Austen, Volume I: Sense and Sensibility, Pride and Prejudice, Mansfield Park - eBook
Author: Jane Austen
Our Price: $2.99


The Complete Novels of Jane Austen, Volume 2: Emma, Northanger Abbey, Persuasion - eBook
Author: Jane Austen
Our Price: $2.99


Jane Austen Unabridged CD Collection: Pride and Prejudice, Persuasion, and Emma
Author: Jane Austen
Our Price: $25.49


Jane Austen - Collection: Persuasion, Emma, Pride and Prejudice - unabridged audio book on MP3-CD
Author: Jane Austen, Michael Page and Sharon Williams
Our Price: $14.49