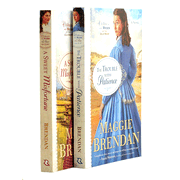 Virtues and Vices of the Old West Series, Volumes 1 and 2
Author: Maggie Brendan
Retail Price: $30.00
Our Price: $10.99
Save: 19.01 (63.37%)

Availability: In Stock

The Trouble with Patience #1 in the Virtues and Vices of the Old West series by Maggie Brendan
Patience Cavanaugh has lost hope in romance. The man she yearned to marry is dead and her dreams are gone with him. Now she is consumed with the restoration of a dilapidated boarding house in order to support herself. Despite her desire for solitude, Jedediah Jones, the local sheriff with a reputation for hanging criminals, becomes an ever-looming part of her life. It seems like such a simple arrangement: Patience needs someone with a strong back to help her fix up the boardinghouse, and Jedediah needs a dependable source of food for himself and his prisoners. But Patience gets more than she bargained for as she explores the depths of the "hanging lawman"--and finds both betrayal and love.
A Sweet Misfortune #2 in the Virtues and Vices of the Old West by Maggie Brendan
Rachel Matthews is determined to make a living without help. Becoming a dance hall girl is one of the few jobs available during a time when woman have few ways to earn a living. Her brother is concerned for her safety and sends his friend John McIntyre who is a local businessman and landowner to rescue her. She does not get along well with John. Does she want to be rescued? Will these unlikely two find a connection?
---
Similar Items you may enjoy!