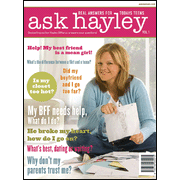 Ask Hayley Volume 1: Real Answers for Today's Teen - Slightly Imperfect

Author: Hayley DiMarco
Retail Price: $12.99
Our Price: $2.00
Save: 10.99 (84.60%)

Availability: In Stock



What do you do when your friends are having a party, but didn't invite you? How can you tell if your clothes look too hot or just simply cute? How can you get your parents to stop treating you like a baby and give you some respect?

Teens just like you have asked Hayley DiMarco these kinds of questions and tons more at askhayley.com. With an understanding of your day-to-day struggles and the culture you live in, Hayley offers straightforward, honest, biblical advice about everything from boys and breakups to fashion and friendship. Styled as a 'bookzine,' the first issue of Ask Hayley also has quizzes on stuff like friendship, crushes, and whether your bff is a Mean Girl.

Author Bio: Hayley DiMarco is chief creative officer and founder of Hungry Planet, where she writes and creates cutting-edge books that connect with the multitasking mind-set. She has written and co-written numerous bestselling books, including Dateable, Mean Girls, Sexy Girls, and Stupid Parents. Hayley lives in Nashville, Tennessee.
---
Similar Items you may enjoy!