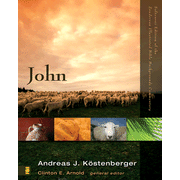 John

Author: Andreas J. Kostenberger
Retail Price: $19.99
Our Price: $4.49
Save: 15.50 (77.54%)

Availability: In Stock



Brimming with lavish, full-color photos and graphics, the Zondervan Illustrated Bible Backgrounds Commentary walks you verse by verse through all the books of the New Testament. Written in a clear, engaging style, this beautiful set provides a new and accessible approach that more technical expository and exegetical commentaries don't offer. It features commentary based on relevant papyri, inscriptions, archaeological discoveries, and studies of Judaism, Roman culture, Hellenism, and other features of the world of the New Testament, hundreds of full-color photographs, color illustrations, and line drawings, copious maps, charts, and timelines, sidebar articles and insights, and 'Reflections' on the Bible's relevance for 21st-century living.

Andreas J. Kvstenberger (Ph.D., Trinity Evangelical Divinity School) is professor of New Testament and Greek and director of Ph.D./Th.M. studies at Southeastern Baptist Theological Seminary in Wake Forest, North Carolina.
---
Similar Items you may enjoy!

The Complete John Ploughman: Combined Edition of John John Ploughman's Talk and John Ploughman's Pictures
Author: C.H. Spurgeon
Our Price: $10.99


1 John, 2 John, 3 John [Pentecostal Commentary Series]
Author: John Christopher Thomas
Our Price: $39.95


The Renaissance New Testament Volume 17: James 4:1-5:20, 1 Peter 1:1-5:14, 2 Peter 1:1-3:18, 1 John 1:1-5:21, 2 John 1-13, 3 John 1-15, Jude 1-25, Rev
Author: Randolph O. Yeager
Our Price: $30.00


Bible on the Go Vol. 49: Letters of John; Jude; Revelation (1 John 3; 3 John; Jude; Revelation 1-2, 4, 19) - Unabridged Audiobook [Download]
Our Price: $1.99