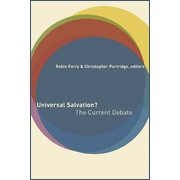 Featuring evangelical writers of exceptional insight and sensitivity, Universal Salvation? offers a conversation worth everyone's attention. The volume opens with a rigorous three-part defense of Christian universalism by philosopher Thomas Talbott, who argues that Scripture teaches the ultimate salvation of all people, including those in hell. Gabriel Fackre in his foreword calls Talbott's work 'the most thoughtfully wrought argument for universalism to date from within the contemporary evangelical community.' The rest of the volume gathers incisive responses to Talbott by Christian scholars from different disciplines, who evaluate the strengths and weaknesses of Talbott's arguments, take his thought in new directions, or explain why they think he is mistaken. Talbott then responds to his critics.

The aim of this volume is not to persuade people that universalism is true but to open up a fairer debate on a controversial subject of continuing importance to theologians and nontheologians alike. By exploring universal salvation from biblical, philosophical, theological, and historical perspectives, this volume helps readers think through the issues more carefully than has been possible with resources previously available.
---
Similar Items you may enjoy!