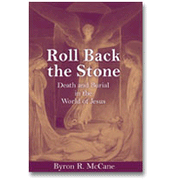 Roll Back the Stone

Author: Byron R. McCane
Retail Price: $43.69
Our Price: $43.69
Save: 0.00 (0.00%)

Availability: In Stock



From ancient times, funerals have been deeply social events characterized by a complex array of social and cultural interactions. This book reveals what took place when the early Jews and Christians in Palestine gathered to bury their dead.

Byron McCane, Academic Director of the Sepphoris Excavations, uses the evidence of his archaeological fieldwork to answer fascinating and important questions including: Was Jesus' burial a shameful event in Roman Palestine? What kinds of death rituals did his followers practice? How different were the death rituals of Jews from those of the earliest Christian communities?

McCane writes with insight and wit about the typical characteristics of Jewish, Christian, and pagan burial practices between 63 B.C.E. and 135 C.E. He argues that Jews of the period shared cultural ethnicity that led to very similar death rituals. He contends that the Christian communities that handed down the Q traditions were made up of typical Galilean Jews.

He examines early Christian stories about Jesus' burial, showing how they are founded in the social context of Palestinian Judaism. Finally, he explores how, in the second century, Jews and Christians begin to part ways in their funerary practices. These changes were driven not only by theological disputes about death and the afterlife, but also by the steady pressure of larger social and cultural forces.
---
Similar Items you may enjoy!